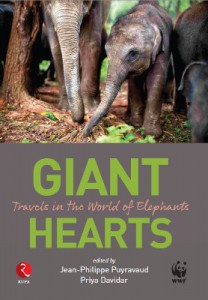 We are very happy to announce that our book on elephants is now published. In this book, renown scientists and authors take you to the world of elephants. Meeting elephants needs more kindness that you would imagine, this book can show you how to go.
Giant Hearts is available at Amazon (here Amazon India): http://www.amazon.in/Giant-Hearts-Travels-World-Elephants/dp/8129136996/ref=sr_1_1?ie=UTF8&qid=1434879149&sr=8-1&keywords=Giant+Hearts+travels+in+the+world+of+elephants
Nous sommes très heureux d'annoncer la publication de notre livre sur les éléphants. Dans ce volume, des scientifiques et des auteurs de renom vous emmènent dans le monde des éléphants. Rencontrer les éléphants requiert plus de gentillesse que vous pourriez imaginer et ce livre peut vous montrer comment se faire des amis chez les géants. Nous espérons une traduction fançaise… Ce livre est diponible en anglais sur Amazon.