The Sigur Nature Trust is a private reserve in the center of the Nilgiri Biosphere Reserve, southern India.
The Trust has protected 30 acres of land for the past 50 years. It is a perfect "workshop" for exploring new relationships with nature. With activities going from involvement with local communities, observations, teaching and research, we have a mission: discover how to coexist with wildlife.

Water to elephants – We have been flooded by your generosity: stop the donations!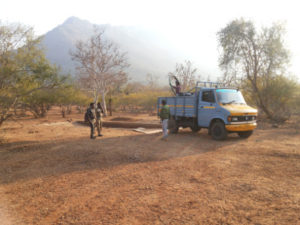 This year is the worst drought on record in Tamil Nadu and right now, the Forest Department does not have the possibility to provide as much water as it is used to. Wildlife and elephants are suffering because the Sigur River dried one year ago and all the check dams along the river are empty.
With the approval and the involvement of Forest Department, we are delivering water to different waterholes in the Trust's vicinity. We provide 10 tanks of 2,000 liters every week. A water tanker costs Rs 500. Till the first rains, we needed an absolute minimum of Rs40,000. The page in "News" and "Water for the elephants – sponsor a tank", gave some details, but please know we do not accept donations any more because we have DOUBLED our objective.
This project has been hugely successful thanks to the generous donations of Ms. Veena Padmanabhan, Dr. André Pittet, Mr. Norwyn Cole, Dr. Shridhar Devidas and Mr. Mohandass Santhanaraman. Dr. Shridhar Devidas, our former Ph.D. student, contributed to the bulk of the donations: we must have done something right, then. Till date (14 February 2017), this project has received Rs85,000. We can subsidize 170 tankers and we hope this will be fine till the monsoon.
So please stop donations for this project, thanks again to our generous friends and let us hope we can somehow reduce damages at least in this region in distributing water to the elephants (spotted deer, sambur, leopard, tiger, birds, etc).
Giant Hearts: order online our edited book on elephants
Giant Hearts, our latest book, gives you a totally different outlook on elephants. We and many other scientists, writers and professionals, show how intelligent and sensitive the elephants can be. The book can be found at Amazon or Rupa.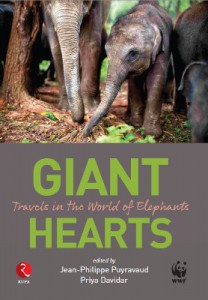 Our latest publication "Predicting landscape connectivity for the Asian elephant
in its largest remaining subpopulation" in Animal Conservation can be found here.

Share our concerns in "News" and "Views".
We have free e-books on nature. See "Publications" then "Books".