The Sigur Nature Trust is a private reserve in the center of the Nilgiri Biosphere Reserve, southern India.
We are protecting this small reserve because we believe that we are all responsible for the protection of nature. Humanity's relentless destruction of nature is unsustainable. According to the famous scientist E.O. Wilson of Harvard University, half the Earth should be kept wild.
The Trust has protected 30 acres of land for the past 50 years. With activities ranging from involvement with local communities, observations, teaching and research, we aim at creating a healthier relationship with the wild.

Attention: the Trust is a not-for-profit organization. We do not in any circumstances rent rooms and we are permanently closed to tourism.
Giant Hearts: order online our edited book on elephants
Giant Hearts, our latest book, gives you a totally different outlook on elephants. We and many other scientists, writers and professionals, show how intelligent and sensitive the elephants can be. The book can be found at Amazon or Rupa.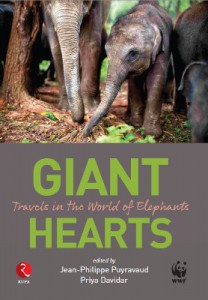 How you can manage your home plastics.
Our latest publication "Predicting range shifts of Asian elephants under global change" in Biodiversity and Distributions" can be found here.

Our concerns in "News" and "Views".
We have free e-books on nature. See "Publications" then "Books".