The Sigur Nature Trust is a private reserve in the center of the Nilgiri Biosphere Reserve, southern India.
The Trust has protected 30 acres of land for the past 50 years. It is a perfect "workshop" for exploring new relationships with nature. With activities going from involvement with local communities, observations, teaching and research, we have a mission: discover how to coexist with wildlife.

Water to elephants – update 3 March 2017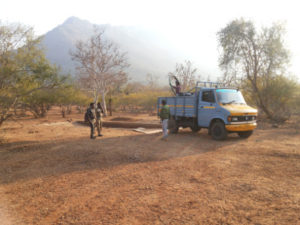 This year is the worst drought on record in Tamil Nadu and right now, the Forest Department does not have the possibility to provide as much water as it is used to. Wildlife and elephants are suffering because the Sigur River dried one year ago and all the check dams along the river are empty.
With the approval and the involvement of Forest Department, we are delivering water to different waterholes in the Trust's vicinity. We provide 10 tanks of 2,000 liters every week. A water tanker costs Rs 500. Till the first rains, we needed an absolute minimum of Rs40,000. The page in "News" and "Water for the elephants – sponsor a tank", gave some details, but please know we do not accept donations any more because we have DOUBLED our objective.
This project has been hugely successful thanks to the generous donations of Ms. Veena Padmanabhan, Dr. André Pittet, Mr. Norwyn Cole, Dr. Shridhar Devidas, Mr. Mohandass Santhanaraman, Mr. Jhalendran, the NCBS students Chengappa, Lalita, Siddarth, Suman, Rasika, and Dr. Jayashree Ratnam. Dr. Shridhar Devidas, our former Ph.D. student, contributed to the bulk of the donations.
Thanks to our alert, the Tamin Nadu Forest Department, via the professional involvement of Mr. Mohandass Santhanaraman, requested the Tamil Nadu Electricity Board to release some water in the Sigur River. We are grateful to the Tamil Nadu Forest Department, the Tamil Nadu Electricity Board and Mr. Mohandass Santhanaraman for the enormous effort in this time of scarcity. Wild animals, but also first and foremost, all of us humans are relieved to see some life again in the valley.
So please stop donations for this project, thanks again to our generous friends and let us hope we can somehow reduce damages at least in this region in distributing water to the elephants (spotted deer, sambur, leopard, tiger, birds, etc).
In the video below, you can see how important the water distribution is. Eleven elephants came here with calves in full day light to get a drink. Almost every day, the tank was filled and sometimes even recharged with our remaining well water.
Giant Hearts: order online our edited book on elephants
Giant Hearts, our latest book, gives you a totally different outlook on elephants. We and many other scientists, writers and professionals, show how intelligent and sensitive the elephants can be. The book can be found at Amazon or Rupa.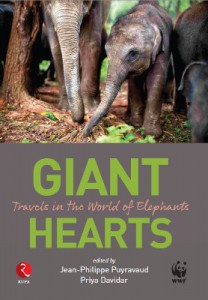 Our latest publication "Predicting landscape connectivity for the Asian elephant
in its largest remaining subpopulation" in Animal Conservation can be found here.

Share our concerns in "News" and "Views".
We have free e-books on nature. See "Publications" then "Books".