Sigur Nature Trust – Dedicated to exploring coexistence with wildlife
The Sigur Nature Trust is a private reserve and a wildlife corridor located in the center of the Nilgiri Biosphere Reserve, southern India.  The region harbors one of the most magnificent environments on Earth with elephants and tigers.
With 200,000 years of history, we humans have fought nature successfully. Unfortunately, we continue to do so at the risk of losing species and ecosystems. We can't carry on this way without harming ourselves and our children. We need to find means to tolerate wildlife, we need to learn how to live in peace with nature.

The Trust has protected 30 acres of land for the past 50 years and is a perfect "workshop" for explorations of a new kind with nature. We also have lifetimes of professional engagement in ecology and conservation which facilitates this pursuit. With actions ranging from involvement with local communities, experiments, teaching and research, we fulfill our mission: discover how to coexist with wildlife.

Explore why coexistence with elephants is possible with our book Giant Hearts
Giant Hearts, our latest book, gives you a totally different outlook on elephants. We and many other scientists, writers and professionals, show how intelligent and sensitive the elephants can be. The book can be found at Amazon or Rupa.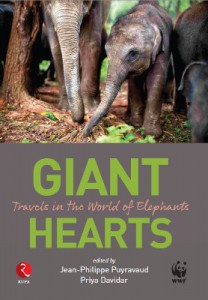 E. R. C. Davidar, the founder of the Sigur Nature Trust, is now in the Hall of Fame of the Tamil Nadu Forest Department! See "News".

Our scientific articles are found in "Publications" then "Scientific papers".

Discover our environment in "Explore Our Jungle".
Share our concerns in "News" and "Views".
We have free e-books on nature. See "Publications" then "Books".

See some of our elephant visitors: aren't they peaceful?