The Sigur Nature Trust is a private reserve in the center of the Nilgiri Biosphere Reserve, southern India.
We are protecting this small reserve because we believe that we are all responsible for the protection of nature. Humanity's relentless destruction of nature is unsustainable. According to the famous scientist E.O. Wilson of Harvard University, half the Earth should be kept wild.
The Trust has protected 30 acres of land for the past 50 years. With activities ranging from involvement with local communities, observations, teaching and research, we aim at creating a healthier relationship with the wild.

Attention: the Trust is a not-for-profit organization. We do not in any circumstances rent rooms and we are permanently closed to tourism.
Rivaldo news.
Rivaldo the elephant has been in the news recently. We submitted a rehabilitation plan for him in March 2021, two months before his capture. The plan was never considered.
The plan is now published (July 2021) after a long delay due to Covid and is available here: Davidar & al 2021.

In July 2021, thanks to the newly appointed Chief Wildlife Warden, a rehabilitation plan is in order. In the mean time, five months were lost and the elephant was kept in a cage for three months.

Celebrate the World Elephant Day on 12th August.
It's World Elephant Day, so take the pledge to commit to ethical elephant experience. Wildlife tourism can look innocent, but there are often unseen repercussions like abuse and exploitation leading to incidents. So it is time to participate to conservation by offering ethical services and if you are a tourist, by making sure you don't contribute to disturbing elephants.

Learn more at our partner's website here: Trunks and Leaves.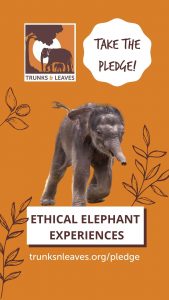 Firecrackers: an indicator that the management of an elephant corridor is going wrong.
Firecrackers – we are talking about powerful and dangerous devices – are supposed to be controlled in this region. Probably not for sale officially. Still, we hear firecrackers on a constant basis from the village to the left (Mavinhalla) or the village to the right (Vallatottam), with the consequence of frightening endangered wildlife and making elephants aggressive. We will try to record for a week to get an idea.
2 Aug. 2020. Mavinhalla 4. Vallatottam 2
3 Aug. 2020. Mavinhalla 3. Vallatottam 4
4 Aug. 2020. Mavinhalla 1. Vallatottam 2
5 Aug. 2020. Mavinhalla 7. Vallatottam 10
6 Aug. 2020. No data
7 Aug. 2020. Mavinhalla 9. Vallatottam 2
8 Aug. 2020. Mavinhalla 8. Vallatottam 2
9 Aug. 2020. Mavinhalla 5. Vallatottam 0
After one week of data, one can conclude that something drastic changed in this corridor as compared to last year.
How you can manage your home plastics.
You like what we do? We do it for free. But we still need to replace our computers when they fail. We also need to pay to publish scientific articles – all major publishing houses are … for profit.
You can donate here:
Sigur Nature Trust
Indian Bank
Masinagudi
IFS Code: IDIB000M018
A/c No.: 0564501164
Our latest publication "Wildlife managers ignore previous knowledge at great risk: the case of Rivaldo, the iconic wild Asian Elephant Elephas maximus L. of the Sigur Region, Nilgiri Biosphere Reserve, India." in Journal of Threatened Taxa is available here.

List of vertebrates and butterflies
We have free e-books on nature. See "Publications" then "Books".