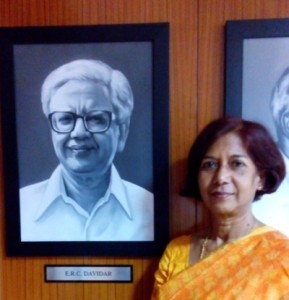 It is an immense honor to announce that E. R. C. Davidar, the founder of the Sigur Nature Trust, has joined eminent foresters and conservationists in the Hall of Fame of the Tamil Nadu Forest Department.The inauguration of the Hall of Fame was organized on the 31st January 2016, in the Panagal Building and inaugurated by Thiru M. S. M. Anandan, the Minister of Environment and Forests, Government of Tamil Nadu, Thiru Hans Raj Verma, I.A.S, Principal Secretary to the Government, Dr. Krishna Kumar, Principal Chief Conservator of Forests and HOD, and Dr. V. K. Melkani, PCCF and Chief Wildlife Warden.
The Tamil Nadu Forest Department has opened a Hall of Fame at its headquarters in Chennai, where photographs and works of legendary forest officers and conservationists have been displayed.The team identified 20 officers and five well-known conservationists.
E.R.C. Davidar is remembered in particular, for undertaking the first survey of the Nilgiri tahr over its entire range, conducting the first study in India on elephant corridors and taking an active part in the protection of the Nilgiris.
Dr. Priya Davidar, Managing Trustee of the Sigur Nature Trust, participated to the inauguration. Following the example set by her father, she recalled that it is imperative to preserve wildlife if our civilization is to survive. In this effort, the involvement of society is crucial, as acknowledged by the Hall of Fame where distinguished foresters are in the company of dedicated citizens.
Times of India has dedicated an article to this event:
http://timesofindia.indiatimes.com/city/chennai/Tamil-Nadu-forest-dept-opens-hall-of-fame-in-Chennai/articleshow/50795638.cms
Jean-Philippe Puyravaud.